M421 Maraging Face Metalwoods
We put you in the fairway and take you to the green.

M421 True Maraging Face Woods with Superior Attributes.
Our M421 Maraging Face Wood. A Great Clubhead:
HRC45-50 True Maraging Face Hardness! This really crushes the ball.
17-4 Stainless Steel Body For Solid Durability
Wedged Design Twin Rail Sole..handles any lie or turf condition .... promotes workability.
Dual Copper Tungsten Weights.... in the Rails...really get the ball up.
15° , 21° and 25° Plus the Deep face 12°. Woods with enough face height to allow you to select your best shot. From the tee or sitting high on the rough, snug against a close cropped fairway, laying in a bunker, half buried in a divot or nestled in deep grass.... whether you need to sweep your shot or hit down on the ball; work a cut or draw, fly it high or low, you'll have enough clubface to catch the ball solidly without fear of a high face hit or sky shot and our Copper Tungston Weighted Split T Rail Sole really works through any lie to maximize your shotmaking ability
.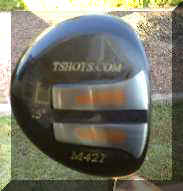 12 °DEEP FACE Fairway friendly & Great on Tight Par 4's/Long par 3's off the Tee.
15° traditional 3 wood with a whole new action. Long, long, long
25° for those high shots or for those who prefer to eliminate some long irons from thier bag.
21 ° .... People hit this five wood and comment on how long it is for a 3 wood...really.
// --> Go to M421 Club Selection